The Sustainable Development Goals in India
India is critical in determining the success of the SDGs, globally. At the UN Sustainable Development Summit in 2015, Prime Minister Narendra Modi noted, "Sustainable development of one-sixth of humanity will be of great consequence to the world and our beautiful planet. It will be a world of fewer challenges and greater hope; and, more confident of its success". NITI Aayog, the Government of India's premier think tank, has been entrusted with the task of coordinating the SDGs, mapping schemes related to the SDGs and their targets, and identifying lead and supporting ministries for each target. In addition, the Ministry of Statistics and Programme Implementation (MoSPI) has been leading discussions for developing national indicators for the SDGs. State governments are key to India's progress on the SDGs as they are best placed to 'put people first' and to ensuring that 'no one is left behind'. The UN Country Team in India supports NITI Aayog, Union ministries and state governments in their efforts to address the interconnectedness of the goals, to ensure that no one is left behind and to advocate for adequate financing to achieve the SDGs.
Story
16 June 2023
UNSDCF 2023-2027
GoI-UNSDCF 2023-2027 represents the UN development system's collective offer to the Government of India, in line with the national vision for development, for the achievement of the Sustainable Development Goals, promoting gender equality, youth empowerment and human rights. The United Nations General Assembly Resolution A/RES/72/279 designates the United Nations Sustainable Development Cooperation Framework as the principal planning and implementation instrument for the UN Development System at country level. Programme priorities of the UN entities working at the country are derived from the GoI-UNSDCF. Read the report here: https://digitallibrary.in.one.un.org/PdfViewer.aspx?FileName=8292_1.pdf&Resourcekey=Mz9rVEcrLsA=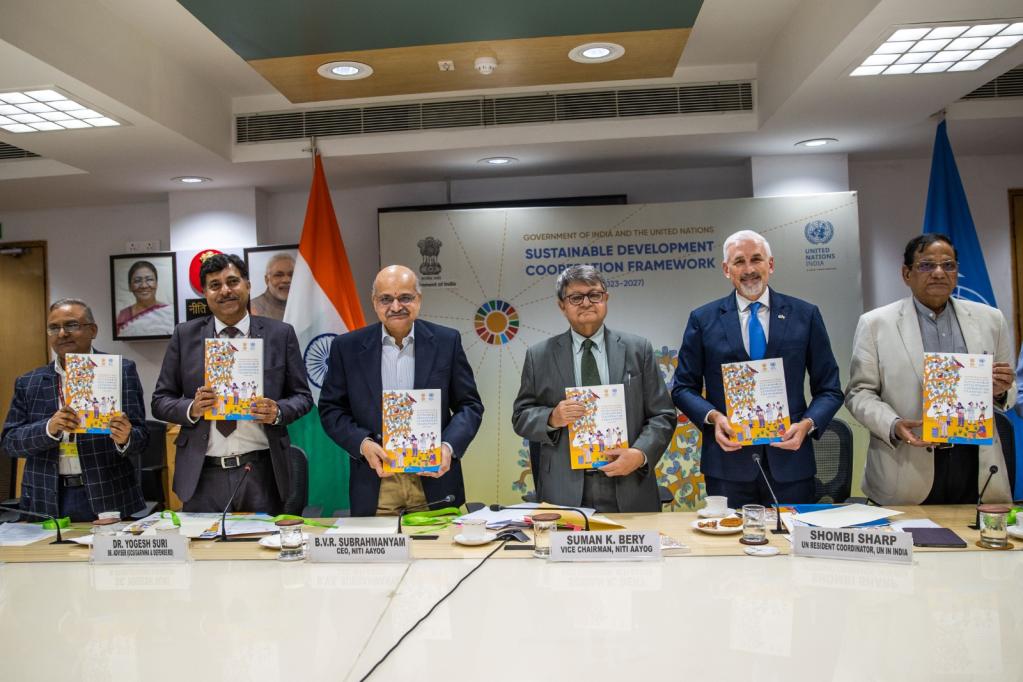 Publication
29 September 2023
United Nations in India Annual Report 2022
The UN India Annual Report 2022 covers the final year of the UN - Government of India Sustainable Development Framework (UNSDF) 2018-2022, which continued to guide our support to India's development priorities, even as we repurposed a significant part of our planned activities and budget towards the COVID-19 response. The UN pulled together as a system with remarkable response support efforts during the darkest days of COVID-19, and we
continued to support the Government of India's response to the health and socioeconomic impact of the fast-spreading
Omicron variant in the early months of the year.
Yet, just as a fragile recovery took root, new shocks emerged from a senseless conflict in Ukraine, driving increasing scarcity of life's basic necessities such as food and fuel, and wiping out years of progress in the achievement of the 2030 Agenda and the Sustainable Development Goals (SDGs). Read the full report.