8 November 2023 - 31 December 2023
UDHR and YOU
The Universal Declaration of Human Rights (UDHR) is a milestone document in the history of human rights that was proclaimed by the United Nations General Assembly in Paris on 10 December 1948.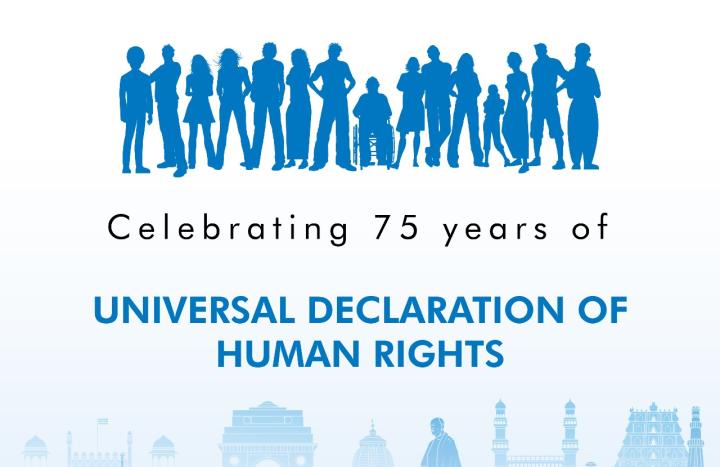 UN entities involved in this initiative
UNIC
Sustainable Development Goals
No Poverty
Zero Hunger
Good Health and Well-being
Quality Education
Gender Equality
Clean Water and Sanitation
Affordable and Clean Energy
Decent Work and Economic Growth
Industry, Innovation and Infrastructure
Reduced Inequalities
Sustainable Cities and Communities
Responsible Consumption and Production
Climate Action
Life Below Water
Life on Land
Peace, Justice and Strong Institutions
Partnerships for the Goals
Contact information
unic-newdelhi@un.org
Location
New Delhi
UN House
110003 New Delhi
India
8 November 2023 - 31 December 2023
About the initiative
The Universal Declaration of Human Rights, which was adopted by the UN General Assembly on 10 December 1948, was the result of the experience of the Second World War. With the end of that war, and the creation of the United Nations, the international community vowed to never again allow atrocities like those of that conflict to happen again. World leaders decided to complement the UN Charter with a road map to guarantee the rights of every individual everywhere.
The Declaration comprises 30 separate articles that address fundamental human rights and freedoms. These rights include access to education, employment, the vote, health care and more as well as values such as free speech, privacy and mutual respect, irrespective of gender, race, ethnicity, or religion.
To mark the Declaration's 75th anniversary, the United Nations Information Centre in India is conducting a series of events and outreach activities to raise awareness about the Declaration and to celebrate the ways in which it is still so relevant to our lives today.
As part of our outreach activities, we are inviting people to read out the preamble or the articles of the UDHR at a location that is special to you. Select videos of the reading will be shared on UN India's social media platforms. The Declaration has been translated to more than 500 languages. The language versions can be seen here.
What
Take a video of you or your friends, classmates, family, relatives, teachers, colleagues reading the preamble or any one of the articles of the Universal Declaration of Human Rights.
The video should be in landscape or horizontal mode and preferably, in front of place that holds meaning for you.
The reading of the articles can be done by individuas or groups.
How
Upload the video to a google drive and share the link with us on email at unic-newdelhi@un.org. In your email with the video attachment, please share your name, what you do and your city.
When
8 November - 23 December 2023
For any clarifications, please reach out to: unic-newdelhi@un.org