Press Release
India "rings the bell' to spotlight women-led development for a sustainable future
06 March 2023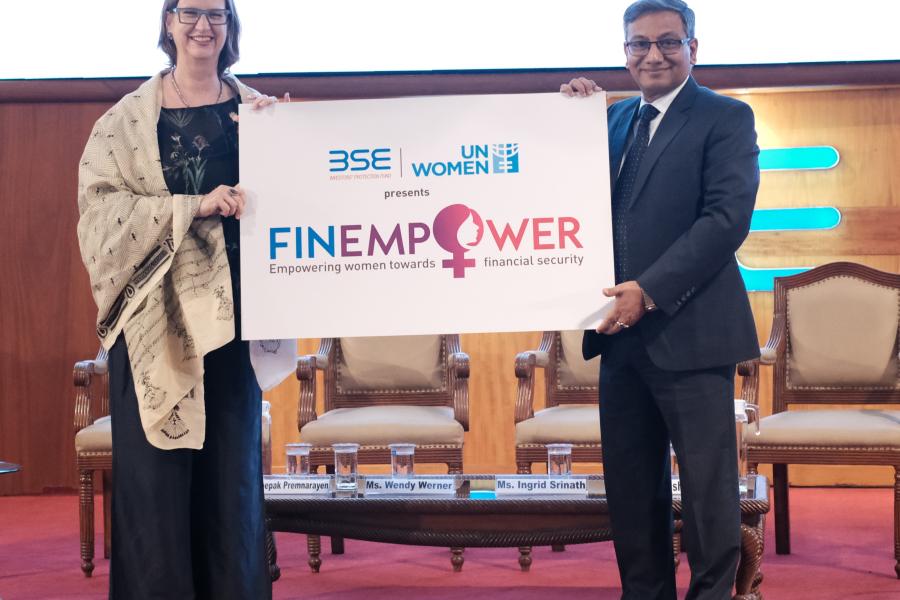 Mumbai, India: Business executives, policymakers and UN Women leaders made an urgent call to accelerate investment in women leaders and entrepreneurs during the "Ring the Bell for Gender Equality" ceremony, held at the Bombay Stock Exchange (BSE) on 6th March, in commemoration of the International Women's Day, here today.
The "Ring the Bell for Gender Equality" initiative is jointly organized annually through global collaboration between UN Women and International Finance Corporation, Sustainable Stock Exchanges Initiative, UN Global Compact and the World Federation of Exchanges. The year 2023 marks the ninth consecutive year of the initiative.
In India, BSE collaborated with UN Women India to organize the "Ring the Bell for Gender Equality" ceremony at the International Convention Hall of BSE. The MD and CEO of BSE, Mr. Sundararaman Ramamurthy, along with Ms. Susan Ferguson, Country Representative of UN Women India, jointly rang the bell for gender equality.
Speaking on the occasion, Ms. Susan Ferguson, Country Representative, UN Women India, said, "Our bell-ringing event signifies the commitment of the private sector to advance gender equality and boost inclusive and sustainable economic growth."
Speakers at the ceremony emphasized that women need increased access to capital, assets and support to achieve their leadership potential, and recognize the crucial role of the private sector in achieving the Sustainable Development Goals (SDGs).
Mr. Ramamurthy expressed his gratitude to UN Women for their continuous collaborative efforts on this important cause of diversity and equality. He appreciated the prominent contribution of women in the financial services sector and their capability to look at issues from different dimensions, bringing a professional outlook to the table. He recalled the contribution of Securities and Exchange Board of India in pushing the agenda of the need to have women directors on the boards of corporates. Mr. Ramamurthy emphasized the need for corporates to look at diversities from various angles, such as age, demographics, gender, geographies, etc. to broaden their outlook and cater to the various needs of cross-sections of society.
The high-level meeting was followed by the launch of a new programme "FinEMPOWER" Empowering Women towards Financial Security". A year-long joint capacity building programme between BSE and UN Women to empower women on financial security.
Delivering his special address, Mr. Shombi Sharp, United Nations Resident Coordinator in India, reiterated the need for an enabling environment for women across all aspects of the value chain. "Women's empowerment needs our undivided attention and focus if we want to achieve gender equality in all spheres of life. Ensuring women entrepreneurs' access to finance will be crucial for inclusive growth and economic recovery," he said.
India currently has a total of 340 WEPs signatories. Interest from the corporate sector in signing on to the WEPs has grown almost sixfold from 54 signatories in April 2019, a month after the WeEmpowerAsia programme was launched.
In addition to India's strengths in promoting inclusive leadership and gender-friendly workplace policies, listed companies are being encouraged to be more innovative and enhance their accountability to their shareholders by considering the impact of gender equality and women's empowerment when selecting services and goods.
The Ring the Bell initiative in India included a panel discussion, on using digital technologies for unlocking potential for women's financial inclusion and security. Moderated by Ms. Ferguson, the panel focused on barriers in the way of digital inclusion and the role of business and fintech in transforming women's socio-economic realities. The panellists included Ruta Pithwa, Managing Director, MSCI; Deepak Premnarayen, Chairperson, Business Sector Advisory Council of UN Women India, UN Women; Manisha Girotra, Chief Executive Officer, Moelis; Wendy Werner, India Country Manager, IFC; and Ingrid Srinath, Former Director, Centre for Social Impact and Philanthropy, Ashoka University.
Highlighting the importance of private sector, governments and civil society working together towards bolstering women's work in times of crisis, Ms. Ferguson said, "Women need ever more support to become or remain financially independent and to access much-needed funds. Supporting women's businesses becomes essential as economies begin to re-emerge."
Over 100 business leaders, experts and international development practitioners attended the Ring The Bell ceremony in India.
[END]
For further queries and clarifications contact:
Kumar Tiku, Communications Advisor, UN Women <kumar.tiku@unwomen.org>
Daniel Ginsianmung, Communications Officer, UN Women <daniel.ginsianmung@unwomen.org>
Santanu Chakraborty, Corporate Communications, BSE <Santanu.chakraborty@bseindia.com>
UN entities involved in this initiative
UN Women
United Nations Entity for Gender Equality and the Empowerment of Women