Press Release
UNESCO launches 2022 State of the Education Report for India: Artificial Intelligence in Education
20 September 2022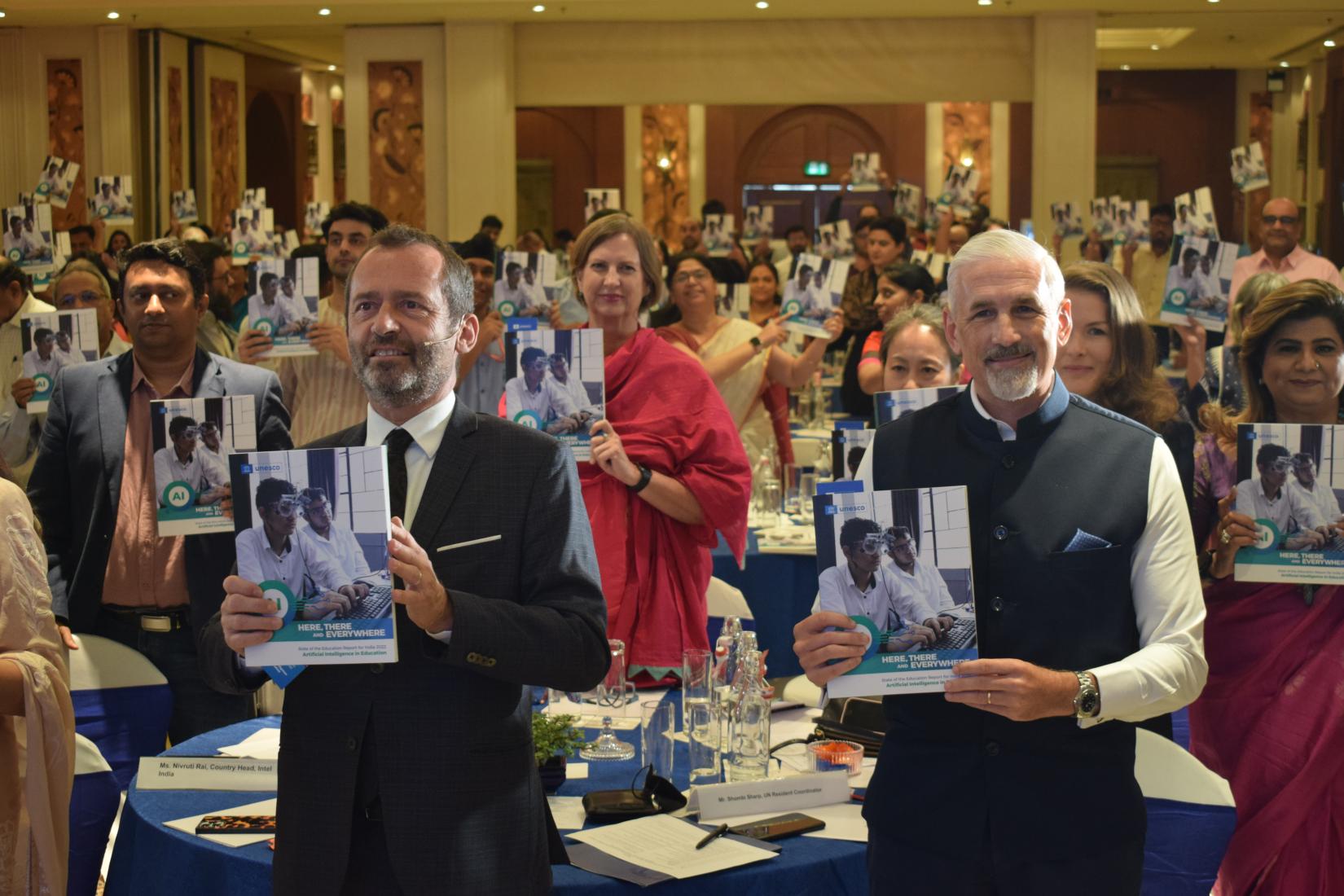 This publication is the annual flagship report of the UNESCO New Delhi Office and is based on extensive research. 
This fourth edition of the State of Education Report provides an introduction to Artificial Intelligence (AI) to demystify a subject that has endured various misconceptions. This is supplemented by an overview of challenges and opportunities in the Indian education sector that Artificial Intelligence can address. 
Today, improving the quality of education and the learning outcomes of students are the utmost priorities of all countries. India has made significant strides in its education system and strong indicators point to the country's notable efforts to enhance learning outcomes, including by using Artificial Intelligence-powered education technology.

Eric Falt, Director, UNESCO New Delhi
The Ministry of Electronics & Information Technology (MeitY) is really pleased to note that UNESCO has dedicated the theme of its 2022 'State of the Education Report for India' to Artificial Intelligence in Education. We believe that this report is timely, as it can contribute towards transforming India into a digitally empowered society and knowledge economy and make Digital India, a reality.

Dr. Rajendra Kumar, Additional Secretary, Ministry of Electronics and Information Technology
It is reported that the AI market in India is expected to reach US$7.8 billion by 2025 at the rate of 20.2 per cent compound annual growth. To align India's curriculum to the 21st century and to prepare the students for the AI economy, India's National Education Policy (NEP) 2020 lays profound emphasis on the need to impart the necessary technical knowledge at all levels of education.  It emphasizes the integration of AI in Education to also promote quality and skill-based education.  
With this Report, UNESCO offers a glimpse of the varied dimensions and suggestions for future uses of Artificial Intelligence in the school setting. We hope this publication will serve as a useful reference tool for enhancing and influencing programmes and policies related to technology and, in particular to Artificial Intelligence; while at the same time, never losing the focus that all technology should be human-centered and benefit the greater interest of humanity.    
In line with the national vision of Digital India, the report concludes with a set of ten action-oriented recommendations that we hope will catalyze India's transformational journey through technological education and advanced tech-driven solutions in the educational processes. 
The ten recommendations are: 
Consider the ethics of Artificial Intelligence in Education as an utmost priority
Rapidly provide an overall regulatory framework for Artificial Intelligence in Education
Create effective public-private partnerships
Ensure that all students and teachers have access to the latest technology
Expand AI literacy efforts
Attempt to correct algorithmic biases and the resulting discrimination
Improve public trust in Artificial Intelligence
Request the private sector to better involve students and educationists in developing AI products
Place ownership of data with the students
Embrace the versatility of Artificial Intelligence in Education systems
The substance of the Report has been developed by an expert team of researchers under the guidance of the UNESCO New Delhi Office.  The Office extends its gratitude to Intel India and Vantage for their timely support and cooperation. 
To illustrate the report, the following audio-visual package is also available free of copyright:
2.  Thematic videos:
_________________
Note to the Editors
UNESCO's mandate calls inherently for a human-centred approach to AI.  UNESCO has developed within the framework of the Beijing Consensus a publication aimed at fostering the readiness of education policy-makers in artificial intelligence. This publication, Artificial Intelligence and Education: Guidance for Policy-makers, will be of interest to practitioners and professionals in the policy-making and education communities.
 
The Artificial Intelligence and the Futures of Learning project builds on the Recommendation on the Ethics of Artificial Intelligence that was adopted at the 41st session of the UNESCO General Conference.
Previous editions
•    N for Nose: State of the Education Report for India, 2019
•    Vocational Education First: State of the Education Report for India, 2020
•    No Teacher, No Class: State of the Education Report for India, 2021
About UNESCO
UNESCO is the United Nations Educational, Scientific and Cultural Organization. It seeks to build peace through international cooperation in Education, the Sciences and Culture. UNESCO's programmes contribute to the achievement of the Sustainable Development Goals defined in Agenda 2030, adopted by the UN General Assembly in 2015.
In this spirit, UNESCO develops educational tools to help people live as global citizens free of hate and intolerance. UNESCO works so that each child and citizen has access to quality education. By promoting cultural heritage and the equal dignity of all cultures, UNESCO strengthens bonds among nations. UNESCO fosters scientific programmes and policies as platforms for development and cooperation. UNESCO stands up for freedom of expression, as a fundamental right and a key condition for democracy and development. Serving as a laboratory of ideas, UNESCO helps countries adopt international standards and manages programmes that foster the free flow of ideas and knowledge sharing.
Follow UNESCO New Delhi on Twitter, Facebook and Instagram
For more information, please contact:
Joyce Poan, Programme Specialist and Chief of Education
E-mail: j.poan@unesco.org(link sends e-mail) 
Rekha Beri, Information Officer
E-mail: r.beri@unesco.org(link sends e-mail) 
UN entities involved in this initiative
UNESCO
United Nations Educational, Scientific and Cultural Organization