5 June 2022 | 9:00 AM - 12 June 2022 | 5:00 PM
Only One Earth
This World Environment Day, Nickelodeon joins hands with the United Nations in India to protect our #OnlyOneEarth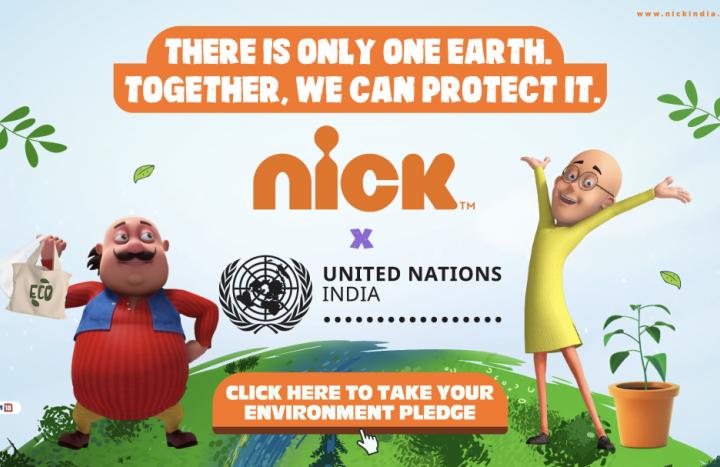 UN entities involved in this initiative
RCO, UNEP
Sustainable Development Goals
Clean Water and Sanitation
Affordable and Clean Energy
Sustainable Cities and Communities
Climate Action
Life Below Water
Life on Land
Partnerships for the Goals
Contact information
nick@viacom18.com
Location
Mumbai
India
400057 Mumbai
India
5 June 2022 | 9:00 AM - 12 June 2022 | 5:00 PM
About the initiative
In a bid to encourage kids to look forward to a greener tomorrow, Nickelodeon, a leader in the kids' entertainment space, has joined forces with the United Nations in India for a flagship campaign, on the momentous occasion of World Environment Day 2022.
Everyone everywhere can help create a more sustainable planet. With the intent to save our Mother Earth from the global environmental crises, the leading kids' entertainment franchise along with the United Nations in India will raise awareness on ways to reduce carbon footprint and emphasize on the importance of protecting the only planet we call home. The noteworthy campaign aims to highlight the need to reset the balance with nature through individual actions and reduce our carbon footprint. As a part of this campaign, Nickelodeon's creative communication will deliver the fundamental message of collective climate action with an emphasis on 'Yeh Planet Hum Sabka Ghar Hai'. Watching Nicktoons has been one of the daily habits and an integral part of every kid's life. Nickelodeon with the help of Nicktoons, will also be leveraging the UN's existing school network in India to amplify the 'Act Now' program, online as well as offline.
Through two inspiring stories, Nickelodeon's Nicktoons bring alive the message of 'Yeh Planet Hum Sabka Ghar Hai'. The first story titled 'Kaagaz Ka Ghar', throws light on human-wildlife conflict while the second story 'Paani Ka Ghar' emphasizes on marine and plastic pollution. With 'Yeh Planet Hum Sabka Ghar Hai', both the stories showcase kids taking the initiative to become climate heroes and bringing about positive change by teaching adults important climate action lessons.
Take the Pledge: https://www.nickindia.com/onlyoneearth/