---
Start: 2018-01-01
End: 2022-12-31
Entities
9
Implementing Partners
0
Investing Partners
0
India has done well to expand food production and build up adequate safety stocks of food grains. For over 70 percent of rural Indian households, agriculture, including livestock, still remains the principal source of livelihood. With a six-fold increase in food grain production from 50 million tonnes in 1950-51 to nearly 300 million tonnes in 2019-20, India has become a net food exporter, being the ninth largest exporter of agricultural products in the world. The share of agriculture and allied sectors in the total Gross Value Added of the Economy have improved to 20.2 per cent in the year 2020-21 and 18.8 per cent in 2021-22.
With these gains, India has transitioned from being a food-deficit nation to a self-sufficient food-producing country in the last 30 years. This has been possible through the 2013 National Food Security Act (NFSA), under which the Public Distribution reached 813 million people with subsidized monthly household rations (rice, wheat or millets).
The National Food Security Act 2013 aims to provide for food and nutritional security by ensuring access to adequate quantities of quality food at affordable prices. Through 543,562 fair price shops and 237 million ration cards, priority households are entitled to receive 5 kg of food grains per person per month at the issue prices of Rs. 3, Rs. 2 and Rs. 1 per kilogram of rice, wheat and coarse grains respectively. 
As an impact of various government schemes, levels of under-nutrition among children have come down over the past decade. From 2005 to 2019, stunting among under-5 children declined from 48 to 35 percent and the proportion of underweight children dropped from 43 to 32 percent. The proportion of children aged 6-59 months who were anaemic fell from 69 percent to 58 percent for the period 2005 to 2015.
Challenges
While the Government has identified pathways to improve agricultural productivity, it is not clear that these will provide sufficient benefits for the marginal and small farmers working on rain-fed plots who dominate Indian agriculture.
For this group, there are new challenges. Firstly, growth rates in agriculture have been fluctuating as farming becomes more vulnerable to climate change. Secondly, land degradation constitutes a major threat to India's food and environmental security and so does rapidly shrinking bio-diversity. Large tracts of farmlands in India have become barren due to imbalanced fertiliser use and excessive use of a single fertiliser, urea. Third, about 30 per cent of the 5,723 administrative blocks in the country report that groundwater is at unsustainable levels. The gradual decline in size of farm holdings and productivity has forced many farmers to look for other livelihood opportunities.
Compounding these challenges, are food safety concerns, particularly for the urban poor and migrants. Food contamination with infectious viruses and bacteria comes from untreated water, pest infections, poor environmental sanitation, poor hygiene, and poor waste management. About half of the cases of child malnutrition are associated with unsafe water, inadequate sanitation or insufficient hygiene. Improved nutritional status depends upon the avoidance of food-borne infections.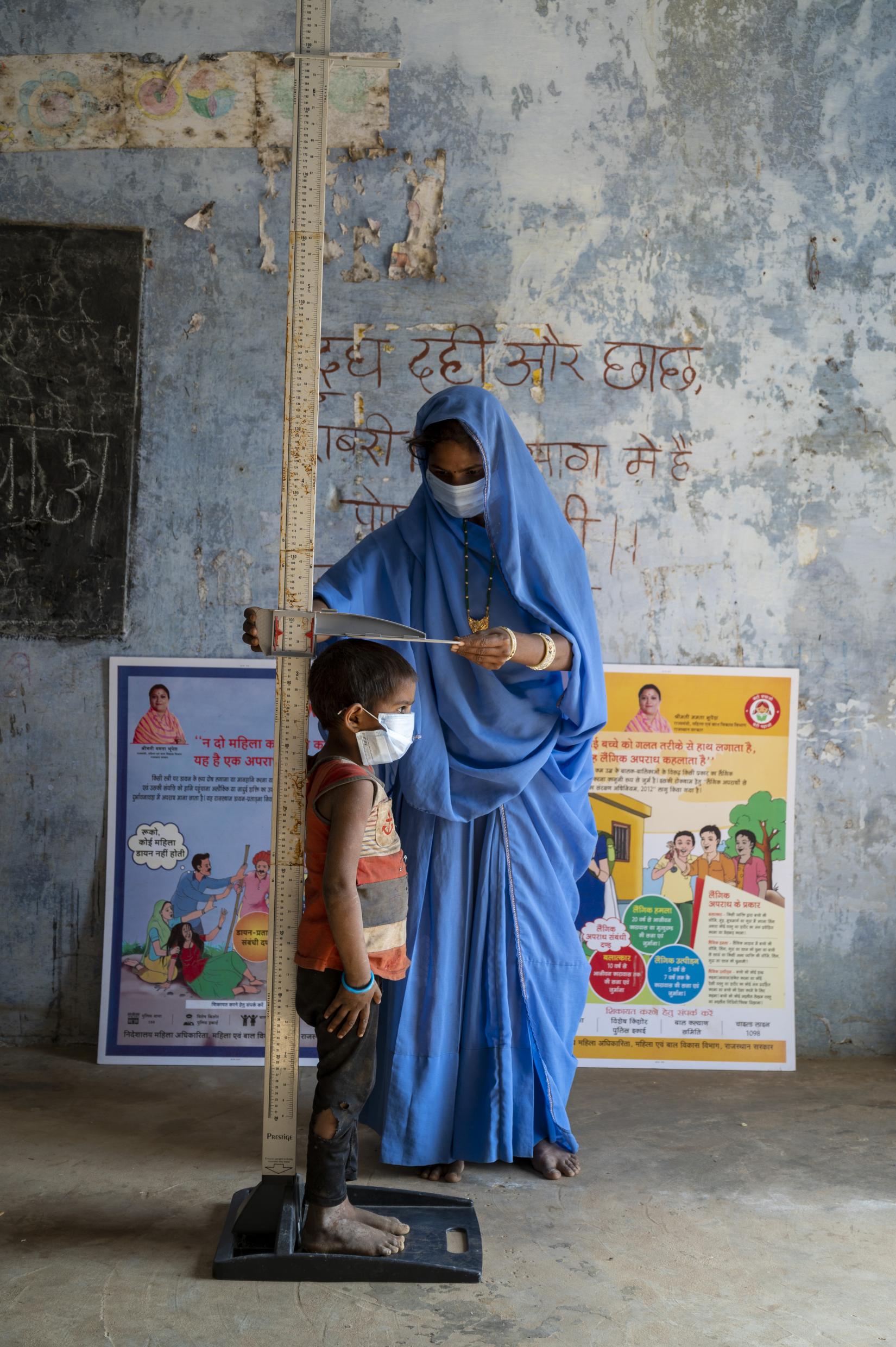 Due to social and economic disparities, nutrition, especially in women and children, is still an immense challenge. The aggregate decline in childhood stunting is not fast enough to meet global targets. India is increasingly confronted with the double burden of malnutrition: About 11 percent of children aged 6-23 months received an adequate diet in 2019-20.  This is paired with an increased prevalence of overweight children and obesity in children and adolescents, which can lead to non-communicable diseases (NCD) in adulthood.
Women and girls are particularly disadvantaged due to their unequal nutritional and health status. This vulnerability is worsened by the growing feminization of poverty and agriculture, with 79 percent of rural women workers in farming and agriculture, who have limited voice, choice, and security, and only 13 percent have landholdings in their name. Ensuring that women farmers have equal rights to land and other forms of property and equal access to rural extension and financial services will increase agricultural productivity and ensure food security for their families and communities.
COVID-19
The outbreak of COVID-19 has further impacted food supply, livelihoods, and ability to access affordable, nutritious food thereby affecting malnutrition, micronutrient deficiencies and low birth weight. The impact was even worse for vulnerable and marginalized groups. Closing of schools and anganwaadis have affected the nutrition that children received through the mid-day meal programme.
UNICEF translated global best practices for protection, promotion and support of breastfeeding and complementary feeding and early childhood development into implementation tools, audio, video and text formats for dissemination across states. Using digital platforms like messaging, WhatsApp, social media, ICDS IT gateway and or SatComs caregivers were provided critical information on breastfeeding, complementary feeding and care of children. Capacity of Government, partners and civil society was enhanced on COVID sensitive nutrition social behaviour change communication (SBCC) through the implementation of SBCC plan of actions for POSHAN Abhiyaan Jan Andolan (JA).
Distribution of ration and food items to migrant workers and economically weaker sections through digital apps, automated vending machines and physical distribution helped the UN combat malnutrition.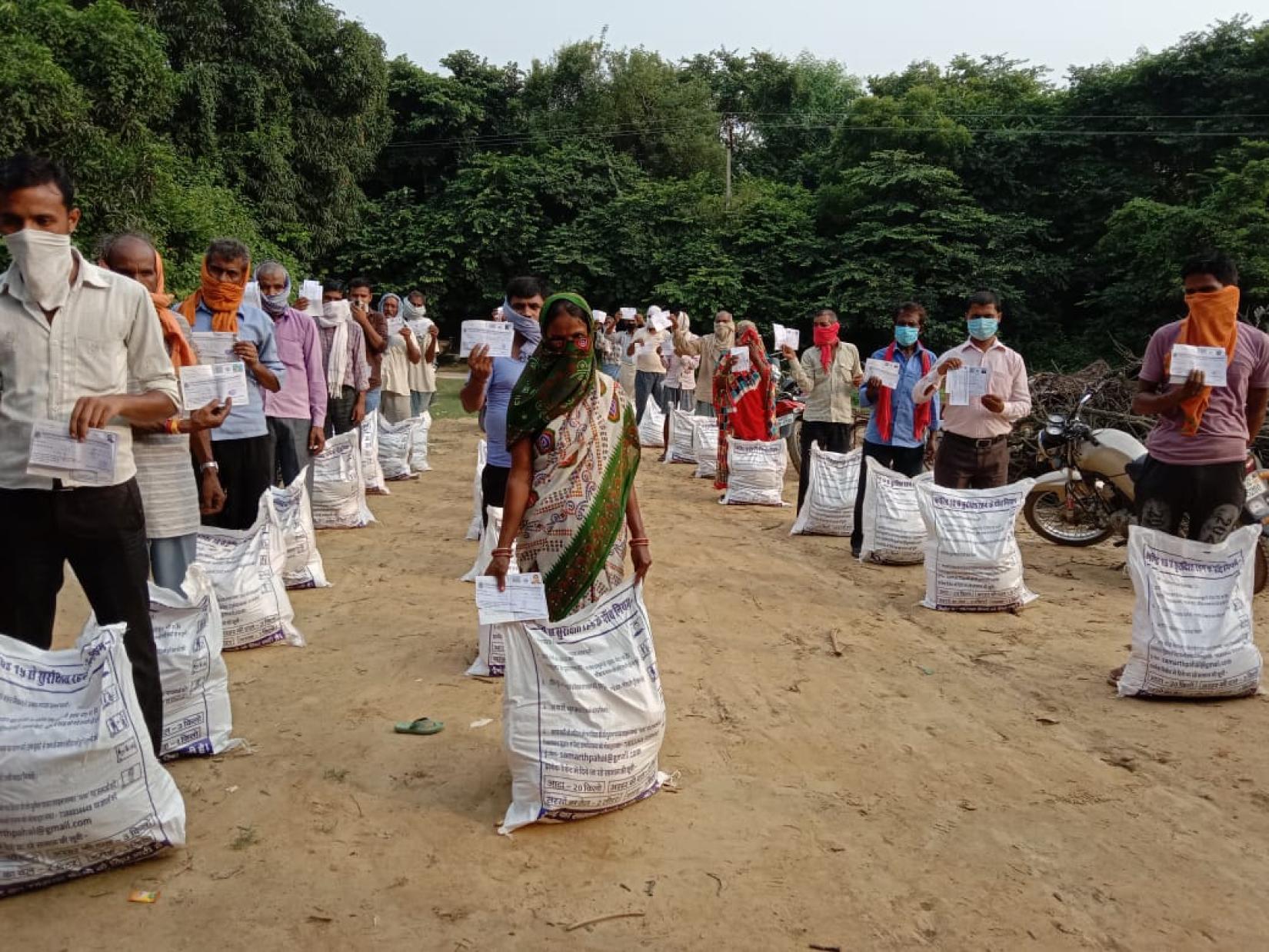 Government interventions
The government launched several programmes to double farmers' incomes by 2022. These seek to remove bottlenecks for greater agricultural productivity, especially in rain-fed areas. They include: the National Food Security Mission, Rashtriya Krishi Vikas Yojana (RKVY), the Integrated Schemes on Oilseeds, Pulses, Palm oil and Maize (ISOPOM), Pradhan Mantri Fasal Bima Yojana, the e-marketplace, as well as a massive irrigation and soil and water harvesting programme to increase the country's gross irrigated area from 90 million hectares to 103 million hectares by 2017. The Mahatma Gandhi National Rural Employment Guarantee Act and the National Rural Livelihoods Mission have provided support for agriculture and livelihood in rural areas.
The government has also taken significant steps to combat under- and malnutrition over the past two decades, such as through the introduction of mid-day meals at schools, anganwadi systems to provide rations to pregnant and lactating mothers, and subsidised grain for those living below the poverty line through a public distribution system. The National Food Security Act (NFSA), 2013, aims to ensure food and nutrition security for the most vulnerable through its associated schemes and programmes, making access to food a legal right.
The launch of the POSHAN Abhiyan (Nutrition Mission) in March 2018 refocused the national agenda on nutrition. The POSHAN Abhiyaan  Jan  Andolan  (people's movement for nutrition) further intensified regular monthly mass communication on nutrition behaviours. 
UN's support
To address the linked nutrition and livelihood challenges in India and to ensure that vulnerable groups are not left behind, the UN priority group partners with the government to scale-up nutrition services and improve feeding and caring practices at home, contributing towards:
Scaling-up of nutrition systems and services and imp roved young child feeding and caring practices in the home
Greater efficiency and effectiveness of the safety nets under the National Food Security Act (NFSA, with a focus on social protection for vulnerable groups
Increased farm incomes and diversified food baskets for small and marginal farming households,
Improved household access to food through enhanced livelihoods and purchasing power
Strengthened agriculture and livelihood dimensions of anti-poverty programmes, particularly the Mahatma Gandhi National Rural Employment Guarantee Act (MGNREGA ) and National Rural Livelihoods Mission (NRLM)
Strengthened market linkages for farm producer
Increased food safety, reducing the risks of foodborne infections related to malnutrition and improving nutrition security
---
UNICEF: United Nations Children's Fund
FAO: Food and Agriculture Organization of the United Nations
IFAD: International Fund for Agricultural Development
ILO: International Labour Organization
IOM: International Organization for Migration
UN Women: United Nations Entity for Gender Equality and the Empowerment of Women
UNDP: United Nations Development Programme
UNESCO: United Nations Educational, Scientific and Cultural Organization
WFP: World Food Programme
Goals we are supporting through this initiative
Background Documents