Speech
SDG Conclave 2020: Partnerships, Cooperation, and Development of North Eastern States
SDG Conclave 2020: Partnerships, Cooperation, and Development of North Eastern States
North Eastern Council | Government of Assam| NITI Aayog | Tata Trusts …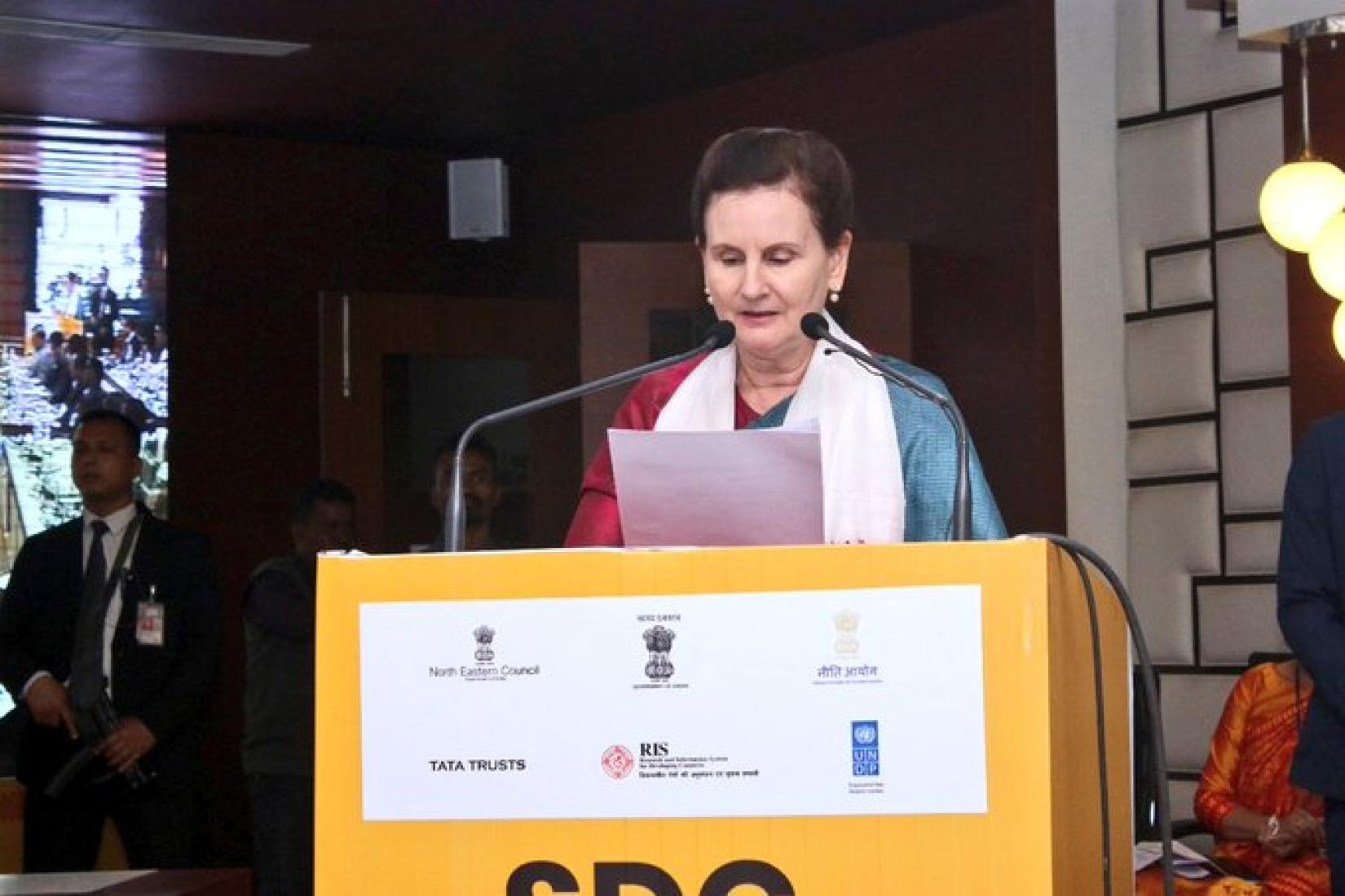 SDG Conclave 2020: Partnerships, Cooperation, and Development of North Eastern States
North Eastern Council | Government of Assam| NITI Aayog | Tata Trusts | RIS | UNDP
United Nations Resident Coordinator
Talking Points
Hon'ble Vice Chairman of NITI Aayog, Dr. Rajiv Kumar,
Hon'ble Chief Minister Sonwal, our gracious host here in Assam
Hon'ble Chief Ministers of the other state of the North East Region,1
Hon'ble Minister of State, Ministry of Development of North East Region, Dr. Jitendra Singh,
CEO NITI Aayog, Mr. Amitabh Kant, and his team at NITI Aayog,
Mr Mehrab Irani, CFO, Tata Trusts,
Distinguished guests, ladies and gentlemen,
§ I am honored to join you all today in beautiful Guwahati, to support your efforts in making the North East a powerhouse region of this country.
§ I especially want to convey my warmest thanks to the Government of Assam, and Chief Minister Sonwal in particular, for convening this conclave and extending such warm hospitality to all of us. And I want to congratulate NITI Aayog and TATA Trusts for this important initiative, with support from UNDP.
Ladies and Gentlemen,
§ The North East is home to 45 million people across 8 very diverse states. This is a very special region of India – special in its unique and beautiful characteristics, and special in its challenges.
§ You have one of the most ethnically diverse populations of India, which we at the UN see as a strength because mixing diverse ways of seeing things and working leads to more robust and tolerant societies.
§ You share the common challenge of being landlocked and physically remote, connected to the rest of India only through the narrow chicken's neck corridor.
§ You share certain chapters in your histories.
§ You have also, all of you, taken the challenges that face you and turned them into opportunities – cultural tourism, eco-tourism, Small and Medium Enterprise promotion, circular economies, and much more.
§ This is my first visit to Assam, but a few weeks ago I had the priviledge of visiting Manipur for the first time. It was a real eye-opener for me. I saw the concerted efforts of the Government and civil society along with the private sector, innovating and determined to ensure that the lives of the next generation will be significantly easier than the lives of their parents.
§ For example, I learned that the CM of Manipur, in order to accelerate the provision of public services to the people of Manipur and leave no one behind, organized government teams across several critical department to go out and visit remote villages to ensure the services are delivered. Over 2000 such visits, to the remotest parts of Manipur have been undertaken by the government with significant advances in service delivery, as well as a much better understanding and sympathy among government cadres for the challenges of remote villagers. The CM also reserves one day a week for citizens, anyone, to come to him with suggestions, complaints, frustrations and each case related to pubic services is recorded and solutions accelerated.
§ Such initiatives exemplary and inspirational. And I'm told that it's not only in Manipur, but across the NE states that we see bold, dynamic, original sets of
innovative solutions to development constraints and efforts to accelerate the SDGs.
§ This is clearly reflected in NITI Aayog's SDG Index. Several NE states rank at the top of the country on different SDG parameters: Sikkim on clean and affordable energy and life on land, Nagaland and Manipur on Sustainable Consumption and Production. Manipur, Nagaland, Sikkim, and Mizoram on SDG 2 – Zero Hunger, far ahead of most states. This is a tribute to your leadership and initiative.
§ But there are also continuing challenges which is why the Government of India, and the Ministry of Development of North East Region (DONER) in particular, is so keen to further boost your efforts, through such schemes as – the North East Special Infrastructure Development Scheme, the approval of the first Bamboo Industrial Park in Assam, 12 highway upgradation projects, and financing of sectors like microfinance, healthcare, handlooms, and tourism.
§ The North East Region Vision 2020 also sets an important framework for the development of the region as a whole.
§ This conclave aims to further accelerate these gains, across all the SDGs, and to deep dive into solutions in such areas as: entrepreneurship, employment, and sustainable livelihoods, resilience of cities and infrastructure, education, health, powering agriculture, and climate action.
§ Assam was among the front runners in internalizing and contextualizing the SDGs at state level, taking a whole of government approach and including a monitoring framework, SDG-oriented planning, and SDG-centric budgets. A survey to obtain better data on outcome indicators, and a Monitoring Dashboard is now being designed for the state. Assam has also prepared an SDG manual for districts and councils, urging them to prepare 15-year visions and 3-year action plans.
§ Similarly, Arunachal Pradesh has undertaken sensitization for all Deputy Commissioners and District Planning Officers on SDGs. Manipur has innovated in laudable ways as I've just described and has started the process of preparing its SDG linked Vision Document for 2030. Meghalaya has undertaken a sensitization
of all government departments and officials on SDGs. Mizoram has organized district and council level sensitization workshops on SDGs and set up a High-Level Monitoring Committee for the SDGs, as well as a dedicated SDG Cell. Such a cell has also been set up by Nagaland, in the Planning and Coordination department. Sikkim hosted a high-level conference on biodiversity and SDGs. And Tripura has set up a High-Level Monitoring Committee that brings together all departments to achieve the SDGs, and organized an orientation programme for Panchayat Secretaries to align local plans with SDGs.
§ The government and the UN alike would like to see these initiatives systematized and monitored with rigour. We'd like to help you accelerate your SDG achievements through evidence-based policies and programmes, informed by by solid data analytics.
§ We stand ready to continue supporting your efforts towards both localizing and achieving the SDGs.
Excellencies, Ladies and Gentlemen,
§ Institutional frameworks such as the Aspirational Districts programme and ambitious national targets on renewable energy, schemes like Ayushman Bharat, Beti Bachao, and Swachh Bharat, while not bearing the explicit SDG label, are in perfect accord with the SDGs as a whole, as well as a core principle of Agenda 2030 – to Leave No One Behind.
§ But Leaving No One Behind is easier said than done. Governments cannot achieve this alone. It requires a whole of society approach, including civil society, youth associations, and the private sector. I hope this Conclave will further consolidate such partnerships that I'm sure you are already cultivating.
Excellencies, ladies and gentlemen,
§ The world will not achieve the SDGs unless and until India does, due to the enormous size of this great country. But it is equally true that India will not achieve the SDGs if the 8 NE states do not achieve them.
§ I look forward to learning more about the excellent work you are doing, your plans for the future and how we can help you accelerate SDG achievements for the people of your beautiful and unique region, for India and for the world.
UN entities involved in this initiative