Speech
UN Day 2019: Gandhi and Sustainability
Speech by Renata Dessallien, United Nations Resident Coordinator in India
As delivered
Honourable Minister Hardeep Puri, our Chief Guest and great friend…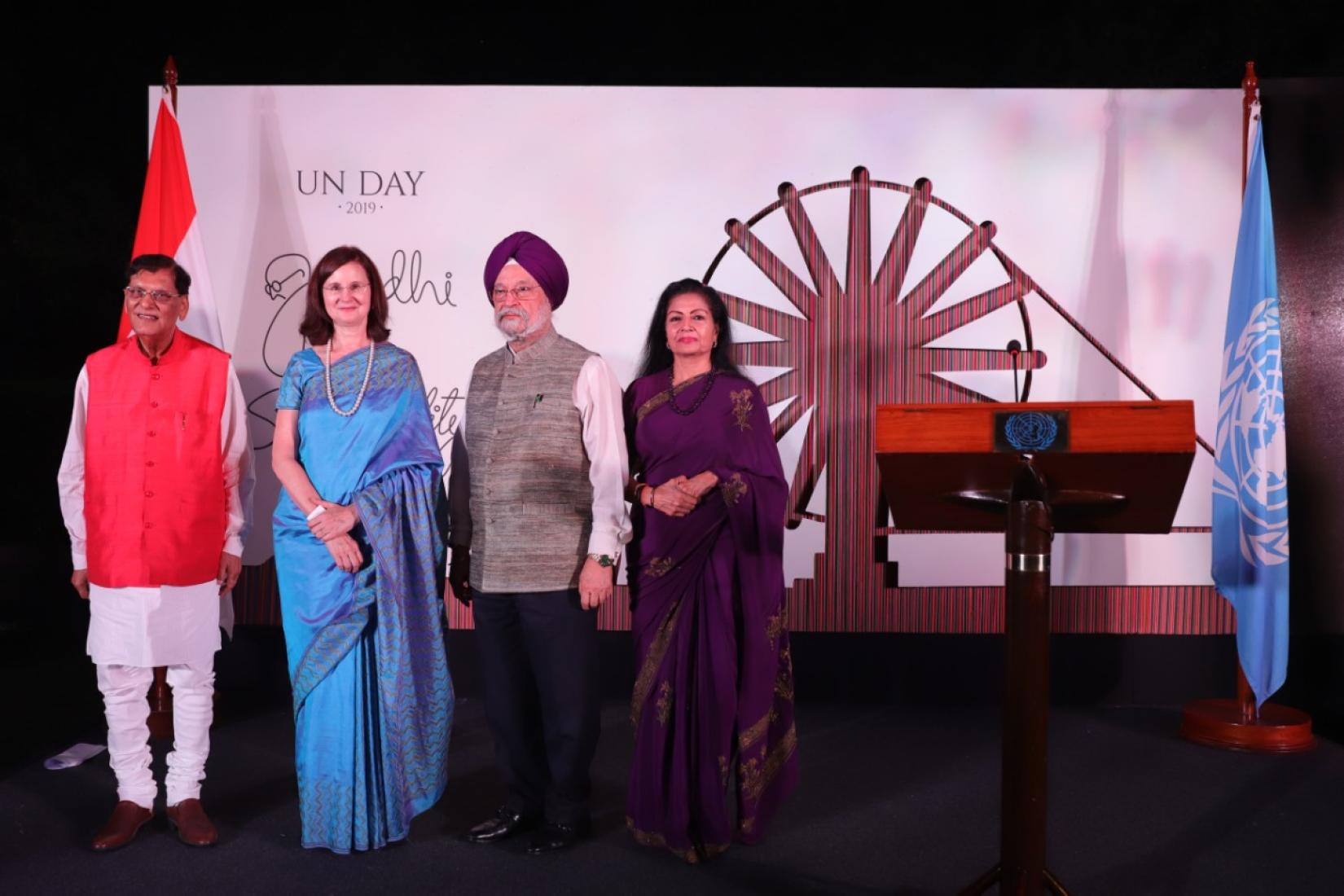 Speech by Renata Dessallien, United Nations Resident Coordinator in India
As delivered
Honourable Minister Hardeep Puri, our Chief Guest and great friend of the UN,
Distinguished Representatives from the Government of India,
Excellencies and diplomats from the diplomatic corps,
Development partners, Colleagues, Ladies and gentlemen,
Namaste, and welcome.
Thank you so much for joining us today to commemorate our 74th United Nations Day. This day marks the entry into force of the UN Charter and commencement of the world's boldest experiment in multilateral cooperation, grounded in universal values and principles.
This is an occasion to thank all our Member States, and all our partners, for your invaluable support over seven decades.
For us here today, it is also a celebration of 74 years of partnership with India. India was with the UN from the very start and has always stood in defence of the highest ideals we have vested in the UN Charter – peace and security, the equal human rights of all people, and development for all.
This is not surprising as it is in India's age-old civilization that we find the great wells of philosophical wisdom that have inspired the world's thinking for centuries, and surely also informed the drafting of the UN Charter.
Since the founding of the UN, India has often also been ahead of the times.
Back in 1947, it was India, through Hansa Mehta, who urged the UN to change the wording of the Universal Declaration of Human Rights from "all men are created equal" to "all human beings are created equal" (that was in 1947!).
India was instrumental in bringing to the UN the International Day of Non-Violence, underpinned by this country's great reservoir of Gandhian philosophy in particular.
India has over the decades supported the world's largest UN Peacekeeping effort through the courage of 200,000 Indian troops and personnel, some of whom, tragically, have made the ultimate sacrifice for peace.
And India has been a leading international voice, for the South, and on South-South cooperation in particular, walking the talk, and establishing the UN-India Development Partnership Fund.
Since we are honoring Gandhi today, let me touch briefly on his legacy, from a global perspective.
Gandhi gave us sustainability at a time when 'climate change' was not yet part of our collective vocabulary. He extended non-violence towards nature, and said, "what we are doing to the forests of the world is a reflection of what we are doing to each other." Last month, we were honoured to have Prime Minister Modi inaugurate the Gandhi Solar Park at UN Headquarters to commemorate Gandhi's 150th birth anniversary.
Gandhi gave us the principle of Sarvodaya, the upliftment of all, and we still see it today in India's approach to development – in "Sabka Saath, Sabka Vikaas" and in the UN's focus on "Leaving No One Behind".
Gandhi gave us the moral courage that continues to inspire peaceful movements against hatred and bigotry around the world. Through these Gandhian values, India also gave us a form of enlightened nationalism, rooted in universalism – a way to look at national identity as a harmonious multiplicity of cultures and faiths, in the knowledge that we are all one big family.
Honourable Minister, under your leadership, your Ministry is rolling out the world's biggest social housing programme with inclusion and resilience at the heart of this mammoth task. In this bold effort I also sense the touch of Gandhi.
Let me take this opportunity, through you, Minister Puri, to extend my sincere gratitude to the Government and people of India, and reiterate, on behalf of the UN in India, how privileged we feel to serve in this great country.
Excellencies, Ladies and Gentlemen,
As we enter the 75th year of the United Nations, the world is shifting under our feet and multilateralism is under fire. Now, as never before, the world must work harder together for innovative, just, peaceful, and lasting solutions.
We look forward to reinvigorating our partnerships with you so that we all rise to the occasion, and rekindle hope in the hearts of our youth and children.
Thank you very much.
UN entities involved in this initiative