Story
Strengthening Capacities for Air Quality Management in India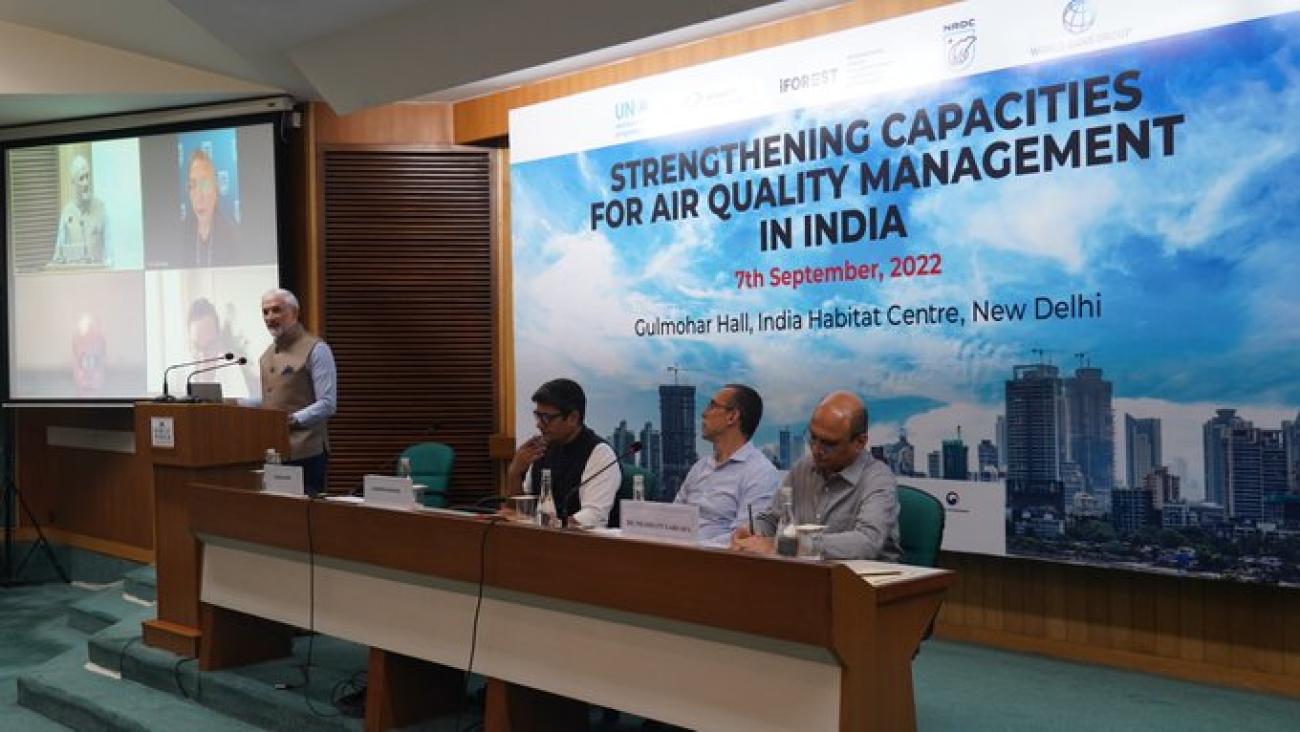 On the International Day of Clean Air for Blue Skies, the PayTM and UNEP supported Air Quality Action Forum (AQAF) hosted the event at India Habitat Centre.
Air pollution is a critical global issue with impacts on public health, crop production, climate, ecosystems, heritage, and economic productivity and efficiency. It poses a grave threat to human health and is one of the main avoidable causes of death and disease both globally and in India. Amongst the many implementation challenges; capacity gaps of the stakeholders at various levels, funding constraints and dissemination of wider knowledge and awareness generation are some of the key gaps in India that require focus to improve that air quality management at the national level shared Vijay Shekhar Sharma, UNEP Clean Air Patron.
"The scale, complexity, and urgency of the problem necessitates a strong, coherent, and coordinated response from all concerned stakeholders in order to address the air pollution issues in India" spoke Mr. Atul Bagai, UNEP Country Head, India. 
The International Day of Clean Air for blue skies on 7th September, which was first commemorated in  2019, draws focus  to the urgency of improving  air quality , and raising public awareness at all levels  to energise coordinated and coherent action towards improving air quality across the globe. The theme for this year's Clean Air Day, 'The Air We Share',  draws attention to the transboundary nature of air pollution and the need for cooperation and shared responsibility.  The theme also resonates with the  recent publication by the Ministry of Environment Forest & Climate Change titled "Guidelines for Capacity Building and Public Outreach under NMCA/ NCAP", which describes a strategy for carrying out capacity building and public outreach under NCAP in concerned cities, state, and central government agencies.
On the occasion of the International Day, on  7 September 2022 the PayTM and UN Environment Programme supported Air Quality Action Forum (AQAF), in collaboration with the Natural Resources Defense Council (NRDC) and the International Forum for Environment, Sustainability and Technology (iFOREST), hosted and event at India Habitat Centre. The event focused on issues that resonated with the theme of this year's Clean Air Day, including, building capacities in India for air quality management, while also underscoring the progress made and the future opportunities for improvement. AQAF is a first-of-its-kind initiative, bringing together stakeholders from  diverse sectors, including private actors, international organisations and government on a common platform with the aim of collectively spearheading the agenda of inclusive air quality management (AQM) in India.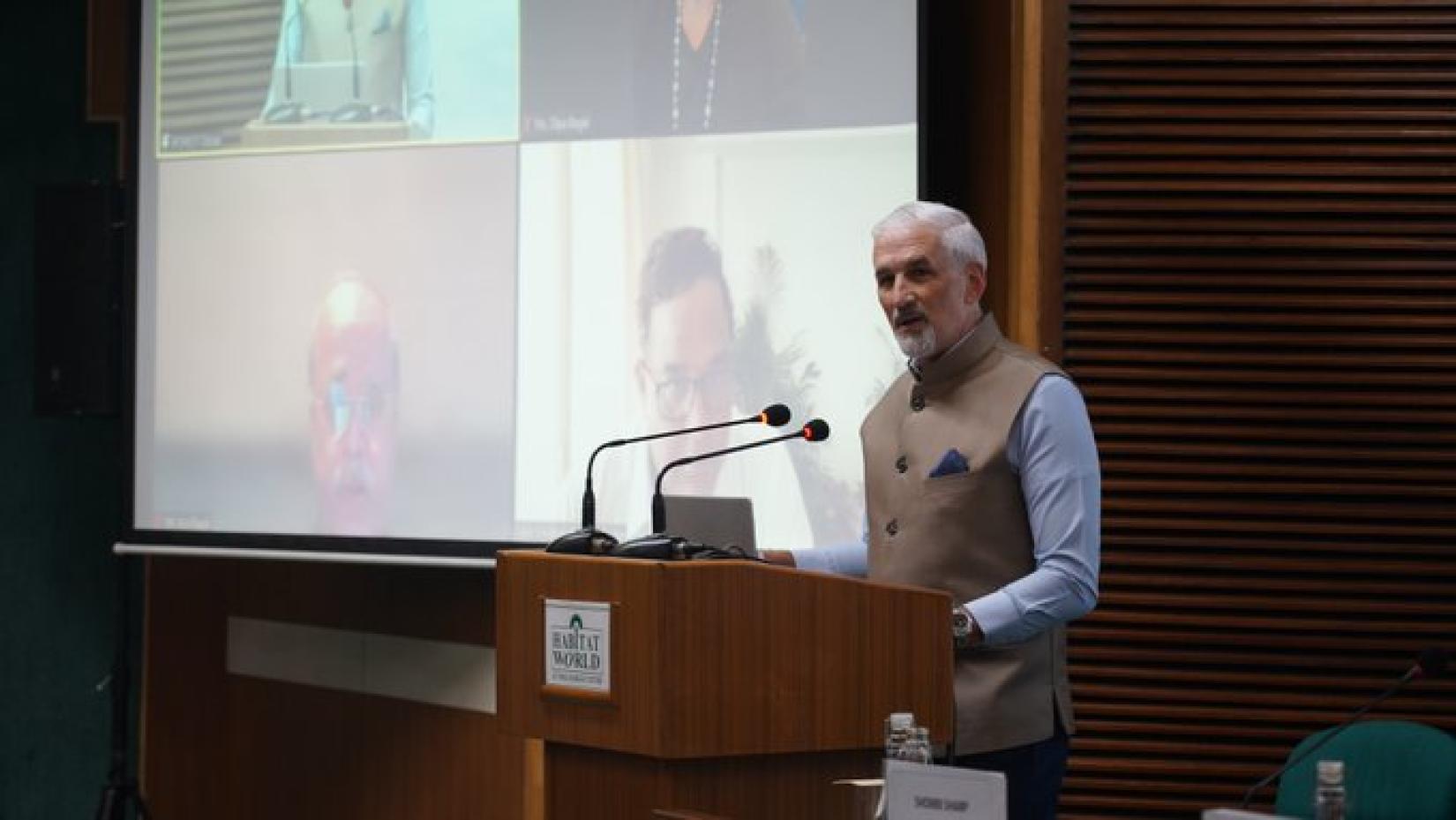 Shombi Sharp, UN Resident Coordinator in India, said, "India joined other nations at the UN General Assembly this July in passing an historic resolution recognising the universal human right to a clean and healthy environment. Clean air, a stable climate and healthy nature are all now human rights as well as core elements of sustainable development, with air quality playing a central role. We must work together across sectors to make these rights a reality, which is why the AQAF partnership with the Government of India is so valuable. And as the theme of this year's International Day of Clean Air for blue skies highlights, air pollution respects no borders, underscoring the need for international cooperation where India is increasingly playing a global leadership role."
Speaking at the inaugural session Auguste Tano Kouame, World Bank's Country Director India shared that "The World Bank is committed to supporting India's plans on air quality improvement and facilitate flow of knowledge and experiences that can help build the human capital needed to support this important agenda,"
At the event, a report titled "Jobs for Clean Air: National Programme for Capacity Development for Air Quality Management" was also released. The report, prepared by iFOREST with the support of the World Bank Group, highlighted the need of a national-level program to develop the capacity of all stakeholders – cities, state and central government, private sector, NGOs and media -- to effectively tackle the air pollution problem.
"Our report shows that we need to train at least 2 million people over the next few years for air quality management. This will also create tens of thousands of new jobs in the public and private sector to plan, monitor, mitigate, and control air pollutants", said Chandra Bhushan, the CEO of iFOREST and the lead author of the report. 
"To strengthen institutional capacities on implementation and research for air quality management, multidisciplinary collaborative governance involving existing regulatory institutions, especially in public health and livelihoods must be encouraged. This can be initiated by simply ensuring representation at the decision-making table." Said Ms Dipa Bagai, Country Head for India of the Natural Resources Defense Council (NRDC).
The collective of over 80 participants, conveyed their strong support for the theme of thise year's Clean Air day, and reaffirmed their commitment to driving the change needed to reduce air pollution and protect human health and the planet.
UN entities involved in this initiative
UNEP
United Nations Environment Programme