Press Release
Smart Solutions Challenge and Inclusive Cities Awards 2022
09 September 2022
The Smart Solutions Challenge, a collaboration between the National Institute of Urban Affairs (NIUA) and the UN in India, sought crowd-sourced innovative solutions and approaches for making cities in India inclusive and accessible for persons with disabilities, women and girls, and the elderly.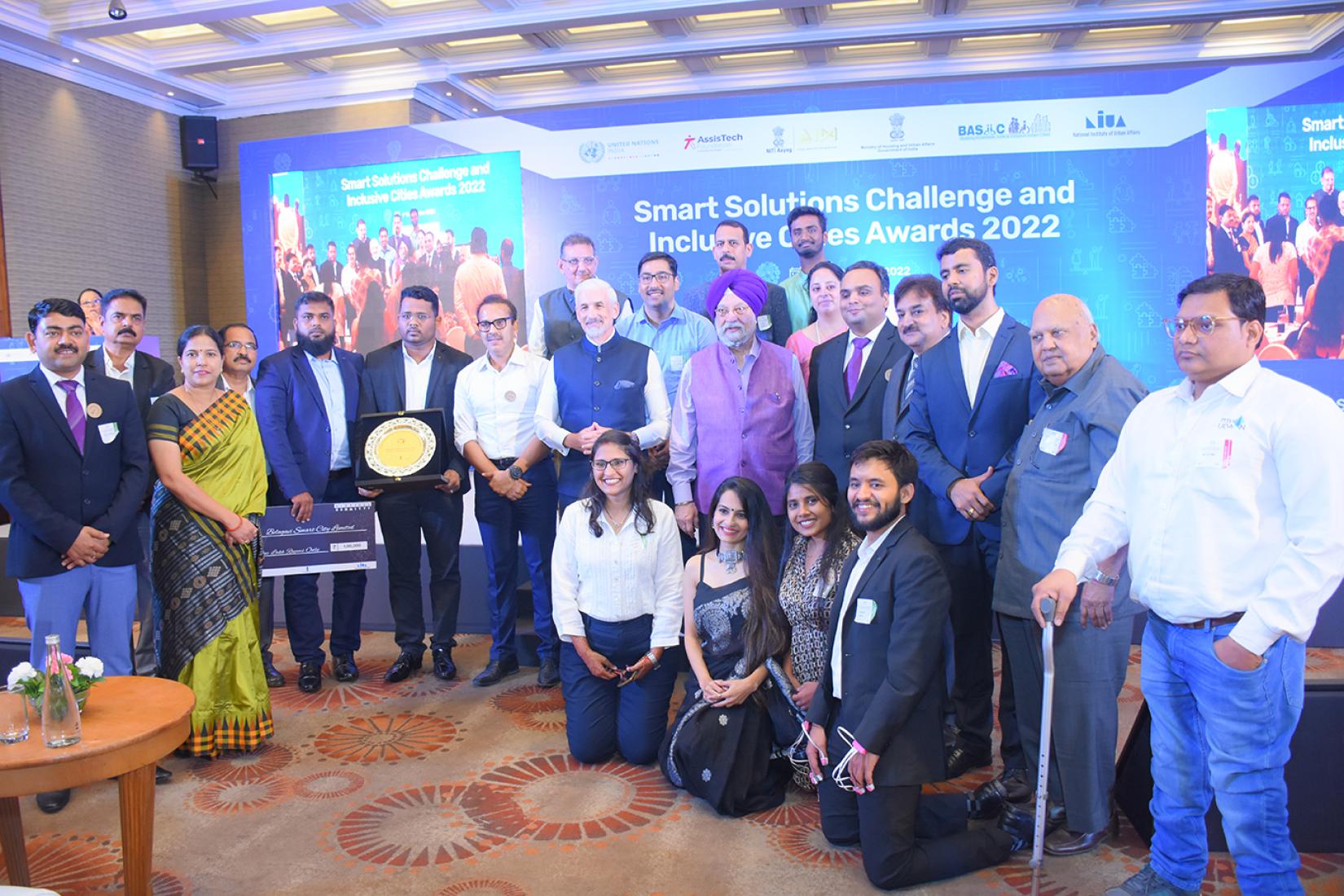 The top 10 technology-based solutions were awarded the Inclusive Cities Awards 2022
New Delhi, 1 September 2022: The Hon'ble Minister of Housing and Urban Affairs, Sh. Hardeep Singh Puri with the UN Resident Coordinator in India, Mr Shombi Sharp, and the Joint Secretary and Mission Director, Smart City Mission, Sh Kunal Kumar, attended the presentation ceremony of the 'Smart Solution Challenge and Inclusive Cities Awards 2022'.
The National Institute of Urban Affairs (NIUA) and the United Nations in India organised the 'Smart Solution Challenge and Inclusive Cities Awards 2022' on 1st September in New Delhi to commemorate and recognise the exemplary work of innovators to strengthen the cause of inclusion and universal accessibility.
Launched this April, the Smart Solutions and Inclusive Cities Awards 2022 was designed with  the aim of promoting people-centric design and to foster novel home-grown technological innovations and solutions.
Over 100 entries were received through an open call for applications, out of which the top 10 technology-based innovations were identified as winning solutions after an intensive round of screenings and shortlisting by an eminent 7-member jury panel. The top awards in the three categories were given to:
Category 1: Early-stage Innovations
Fifth Sense by Glovatrix Pvt. Ltd
Digital Mobility Subsidy by Ola Mobility Institute
AxcesAble Places by AxcesAble Designs LLP
Category 2: Market-ready Solutions
Mouseware by Dextroware Devices
Signer.AI by Incluistic Pvt. Ltd. / Friends for Inclusion
IncluMaps by Vikas Upadhyay, Research Scholar, IIT Delhi
Category 3: Implemented Solutions
Multi-Dimensional Inclusiveness: Using Advanced Technologies for Education and Literacy by Belagavi Smart City Ltd.
myUDAAN by Tekra Solutions Pvt. Ltd.
'Moving with Pride' (Mo Bus and Mo E-Ride) by Capital Region Urban Transport (CRUT), Odisha
Nirbhaya App by Sagar Smart City Ltd.
Commending the laudable efforts by NIUA and UN in India, the Chief Guest, Hon'ble Sh. Hardeep Singh Puri said. "I am thoroughly impressed at the creative capacity of the innovative solutions as well as their potential to change lives of persons with disabilities, women & older persons. The best solutions are always simple, cater to specific pain points, have clear benefits, and are widely accepted by users. These solutions will be instrumental in integrating universal design, which will help achieve SDG target 11.7- to provide safe, inclusive & accessible, green & public spaces for all vulnerable communities."
UN Resident Coordinator in India, Mr Shombi Sharp said, "The inspiring vision of inclusive urban development presented today, powered by an innovative, scalable and people-centric ecosystem, can accelerate disability, gender, and age inclusion in the Decade of Action, and not just for India, but other countries as well. Across the UN System, from the global level to the UN Country Team in India, we are privileged to partner with the Government of India, civil society organisations, innovators, the private sector and other partners in pursuing this important vision to leave no one behind."
The half-day event also included an expert panel on the need to 'Leveraging Innovation and Technology as Enablers for Inclusion' with top academicians, subject matter experts, and innovators from within the country.
In addition to this, a 'Compendium of Smart and Innovative Solutions for an Inclusive & Accessible Urban Future' was also launched at the event by the Chief Guest. The compendium compiles selected solutions that were shortlisted for Phase 2 of the evaluation process, to document and disseminate information about the available technological innovations and good practices within India which can further be used as a resource by urban practitioners in cities and countries across the world,, particularly in lower-income settings.
NIUA's BASIIC programme
As a hub for the generation and dissemination of cutting-edge research in the urban sector, the National Institute of Urban Affairs (NIUA) seeks to provide innovative solutions to address the challenges of a fast urbanising India and pave the way for more inclusive and sustainable cities of the future.The Building, Safe, Accessible and Inclusive Indian Cities (BASIIC) project of NIUA was formulated in partnership with the Foreign, Commonwealth & Development Office (FCDO) in September 2019. The programme aims to support select Indian cities towards ensuring universal access and strengthening the institutional capacities of cities to be sensitive to the needs of persons with disabilities and other marginalised groups. It endeavours to promulgate the tenets of accessibility, inclusion, and safety in the ethos of urban planning and design. The project is being implemented with support from the Ministry of Housing and Urban Affairs (MoHUA). For more information, please visit: https://niua.in/project-details?pid=26
UN in India
The United Nations system in India includes 26 organisations that have the privilege to serve in India. The Resident Coordinator, the designated representative of the UN Secretary-General to the Government, leads the UN Country team to advocate the mandate of the United Nations, while drawing on the support and guidance of the entire UN family. For more information, please visit: https://india.un.org/
For more information on 
===========================================================================
For more information contact: Ila Singh – Head Communications| NIUA| isingh@niua.org | 98 991 36663
UN entities involved in this initiative
RCO
United Nations Resident Coordinator Office
UN-Habitat
United Nations Human Settlements Programme